What is a Fall Risk Assessment?
A Fall Risk Assessment is a set of questionnaires and performance measurements performed by a healthcare professional that determines an individual's risk of future falls. It is used to identify modifiable factors that contribute to a person's increased risk of falling and to develop an individualized plan focused on prevention of falls. The general purpose for assessing fall risk is to develop early detection and intervention (that occurs before overt development of the disorder or adverse event) that will lead to a more favorable prognosis and/or outcome.
There is a continuum of falls risk that ranges from: No Risk to a Very High Risk. The sooner an individual's risk of falling is determined & graded the sooner the health care professional will be able to identify any significant risks and intervene before the risk factor(s) have become moderately advanced. Ultimately, better health outcomes can be achieved through early identification and intervention.
---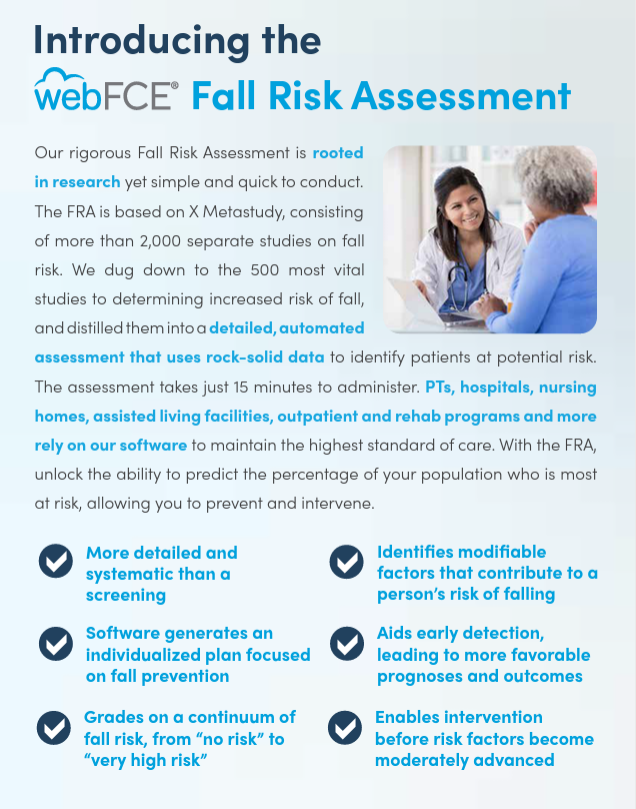 ---
What is it used for?
A fall risk assessment is used to find out if you have a low, moderate, or high risk of falling. If the assessment demonstrates that you are at an increased risk of falls, your health care provider and/or caregiver can recommend strategies to prevent falls and reduce the chance of injury.
---
What is included in a webFCE fall risk assessment?
Pre-screen testing – including vital signs and medical history section to inform the clinician quickly if a person is a candidate to perform a fall risk assessment.
Self Report Based questionnaires – Including the Geriatric Depression Scale (GDS-15) and Falls Efficacy Scale (FES-1) which validity and reliability of the tool have been supported through both clinical practice and research.
Performance based testing – Including the 5x Sit to Stand (5TSTS), Timed Up & Go Test (TUG), Single Leg Stance (SLS), Self-Paced Walking Speed (SPWS), and the Berg Balance Scale (BBS).
---
References:
https://www.health.qld.gov.au/__data/assets/pdf_file/0027/427851/33383_e.pdf