We offer a variety of education courses and certification programs to support all of our evidence-based tools. Our goal is to make you comfortable and confident in performing assessments of all kinds, including:
Details on our FCE courses and certification are below – please contact us for details on the other courses.
---
Functional Capacity Evaluations
Our training and certification program aims to help your staff confidently perform FCEs using the DOT-RFC (Dictionary of Occupational Titles-Residual Functional Capacity) battery along with the DOT-RTW (Dictionary of Occupational Titles-Return To Work) battery. Our training and certification process helps to ensure that any certified FCE evaluator will:
Be able to competently perform functional capacity evaluations
Know how to analyze and interpret the results
Have a general understanding of the overall framework and operation of the webFCE software program
Who Can Take Our Certification and Training Program?
A functional capacity evaluation (FCE) evaluator should be a seasoned clinical professional—a minimum of two years of clinical/field experience is recommended. These professionals can come from a variety of different backgrounds that include, but are not necessarily limited to:
Physicians
Chiropractors
Physical and occupational therapists
Exercise physiologists
Kinesiologists
Athletic trainers
---
DOT-RFC and DOT-RTW Battery-based Training Program
The program will teach you how to implement and use the various evaluation instruments and procedures conducted during a functional capacity evaluation (FCE). You will also be trained to administer and produce an individualized FCE report that meets today's standards in industrial rehabilitation.
Our certification process consists of 100 true/false and multiple-choice questions. The process specifically
covers the Dictionary of Occupational Titles-Residual Functional Capacity (DOT-RFC) Battery format and
other vital Functional Capacity Evaluation (FCE) components. A minimum score of 70% is required to pass, and the examination can be taken as many times as needed to obtain your certification. Those who pass the certification exam will receive a certificate of completion and join a list of certified webFCE evaluators.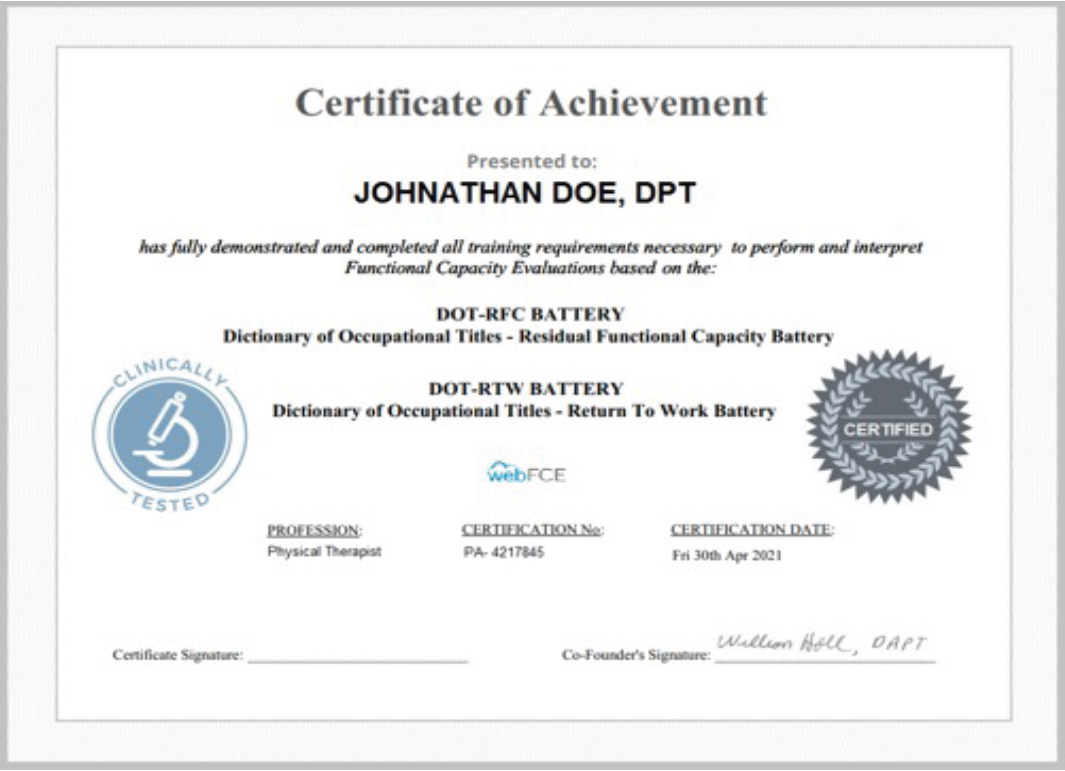 ---
We Offer Three Ways to Get Education With Our Software:
1. Self-Paced Online Education/Training
webFCE offers an online option that gives you the freedom to take our comprehensive training courses at your own convenience, at your own pace, from the comfort of your home or office. Online education and training are conducted using pre-recorded videos, webinars, and educational manuals and supplemental material.
2. Live Webinar
Interactive online classes with a live instructor – gives you the opportunity to ask questions and spend more time on areas in need of extra attention.
3. On-Site Training at Your Facility
Arrange private classes at your location or ours.
---