webFCE offers a training and certification program that aims to help your staff confidently perform FCEs using the DOT residual functional capacity (RFC) battery. Our training and certification process helps to ensure that any certified FCE evaluator will:
Be able to competently perform functional capacity evaluations
Know how to analyze and interpret the results
Have a general understanding of the overall framework and operation of the webFCE software program
Who Can Take Our Certification and Training Program?
A functional capacity evaluation (FCE) evaluator should be a seasoned clinical professional—a minimum of two years of clinical/field experience is recommended. These professionals can come from a variety of different backgrounds that include, but are not necessarily limited to:
Physicians
Chiropractors
Physical and occupational therapists
Exercise physiologists
Kinesiologists
Athletic trainers
---
Straightforward, DOT-RFC Battery-based Training Program
The program will teach you how to implement and use the various evaluation instruments and procedures conducted during a functional capacity evaluation (FCE). You will also be trained to administer and produce an individualized FCE report that meets today's standards in industrial rehabilitation.
Our certification process consists of 100 web-based multiple-choice questions that cover the DOT-RFC battery and webFCE software program. A minimum score of 70% is required to pass, and the examination can be taken as many times as needed to obtain your certification. Those who pass the certification exam will receive a certificate of completion and join a list of certified webFCE evaluators.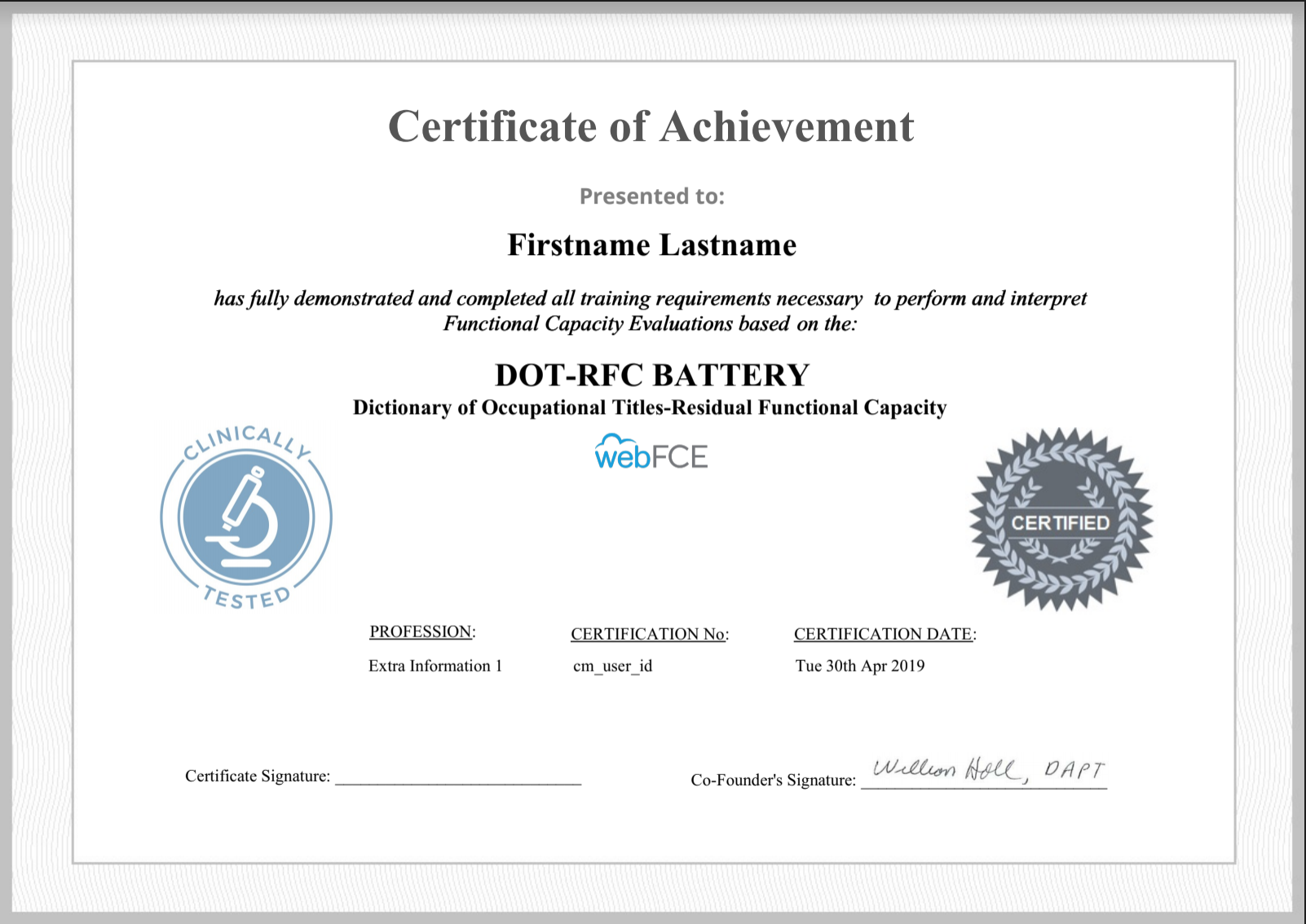 Additional Training Beyond Certification
Each evaluator can also opt to receive additional training in the technical operation of the webFCE software as well as basic testing and evaluating procedures/protocols that are employed while utilizing the webFCE software.
This additional training allows certified clinicians to perform a quality over-read of the first few functional capacity evaluations performed. This over-read includes:
A technical review to ensure testing met protocol standards
A clinical assessment that ensures that the report generated achieves all of the referral source's objectives
Verification that the data supports the evaluator's conclusions and/or recommendations
At webFCE, We Offer Two Ways to Get Certified in Our Software:
1. Online Education/Training
webFCE offers an online option that gives you the freedom to take our comprehensive training courses at your own convenience, at your own pace, from the comfort of your home or office. Online education and training are conducted using:
Pre-recorded videos and educational manuals
Pre-recorded webinars
Live education/training via video conference call—seminars, webinars, or personal one-on-one training
2. On-Site Training at Your Facility
Arrange private classes at your location or ours.
3. Group Training – Coming Soon
Take a course at one of our regularly scheduled classes
---
What's Included in the Course?
The webFCE Manual covers the below topics and learning objectives:
Chapter 1 DOT-RFC BATTERY RESEARCH
Chapter 2 PAIN/OUTCOME QUESTIONNAIRES
Chapter 3 SIT, STAND, & WALK TOLERANCES
Chapter 4 MATERIAL HANDLING STRENGTH TESTING
Chapter 5 BALANCE TESTING
Chapter 6 FUNCTIONAL ACTIVITY TESTING
Chapter 7 HAND DEXTERITY – HANDLING (Gross Motor)
Chapter 8 HAND DEXTERITY – FINGERING (Fine Motor)
Chapter 9 SENSORY TESTING
Chapter 10 FULL-TIME WORK TOLERANCE
Chapter 11 CARDIO-RESPIRATORY TESTING
Chapter 12 CONSISTENCY OF EFFORT/PAIN BEHAVIORS
Chapter 13 WORK SIMULATION TOLERANCES
Chapter 14 TYPES OF FCEs
Chapter 15 DICTIONARY OF OCCUPATIONAL TITLES / O*NET
Chapter 16 REFERRAL, MEDICAL RECORDS, SAFETY, & CONSENT
Chapter 17 FCE DESIGN, UTILIZATION, INTERPRETATION & REPORTING
We also recommend reading the following:
Guide to the Evaluation of Functional Ability: how to request, interpret, and apply functional capacity evaluations. Elizabeth Genovese, MD; Jill S. Galper, PT. American Medical Association.
*This course is currently approved for 7 CEUs by the APTA for select states. Please contact us to confirm your state is approved.
---
Our Software is Based Upon Peer-Reviewed Research Literature
The instruments, procedures, and individual testing components of the webFCE software protocol are well-supported with peer-reviewed literature for reliability and validity. If you're interested in learning more about the research behind webFCE, explore using the links below.